Wheeling Township Clerk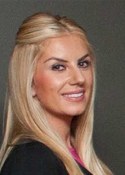 Joanna Gauza
Town Clerk
Clerk's Office


The Wheeling Township Clerk's Office is here to serve the residents of the Township as well as having official responsibilities.

Official Responsibilities
The Township Clerk is the secretary for the township board. The Clerk does not vote, except in the case of a tie vote to fill a vacancy on the township board. The Clerk is required to attend all meetings and is responsible to keep accurate township records of the proceedings, is ex-officio Clerk for the Highway Commissioner, is administrator of oaths, is required to publish notices of all meetings, to file affidavits and certificates of amounts of taxes to be levied, attests the signatures on documents and must countersign all official papers from the Road District.
The Clerk's Office offers the following services:

Voter Registration
Registering to vote allows you to participate in the electoral process and gives you the power to make a difference in deciding who will serve elected office. In order to vote during an election, you must be a registered voter in Cook County 30 days before the election. You can register to vote at the Wheeling Township Clerk's Office - but remember that registration closed 30 days before an election.
To register to vote, you must be:
A U.S. citizen
At least 18 years old by Election Day
A resident of your precinct at least 30 days prior to an election

Have documentation as to your current address and birth date

Illinois voters do not need to register by political party or declare political party membership. However, a voter may select a specific political party's ballot at their polling place when voting in a primary election.
Where and How to Register:
At Wheeling Township, Monday-Friday, between 9:00-4:30
Mail in application form. Forms are available at the Clerk's Office or by calling 847-259-7730.

You can also print a voter registration application at

cookcountyclerk.com

and mail it to the address on application. If you register by mail, you must bring a valid state issued picture identification when you vote for the first time.

Federal law requires first-time voters who register by mail to vote in person the first time.
ABSENTEE BALLOT APPLICATIONS If you have someone in your household or a child away at school who cannot get to the polls to vote, an absentee ballot application can be sent to him or her just by calling the Clerk's Office, 847-259-7730. You can also download an application on line by going to "cookcountyclerk.com". When arriving at the site, go to the left side of the page to "Mail Voting", then to "Apply to Vote by Mail", and then download an application.
Address Changes: If you have moved within suburban Cook County, you must transfer your registration by re-registering or by filling out the back of your old voter registration card and mail it to the County Clerk's Office, 69 W. Washington Street, Suite 500, Chicago, IL 60602.

Name Change: Voters who legally change their name, but not their address, can update your information at the polls or come to any location up to 30 days before an election.
Notary Public Service
The Clerk's Office provides notary public service free of charge. If you have a document needing notarization, please bring it in and one of our notaries will make it official for you.
Polling Places
As soon as the Cook County Clerk sends an updated list of precincts and locations, they will be posted for your convenience.
Election Judges
The Wheeling Township Clerk's Office serves as an "Election Judge Supply" pick-up location. The Thursday and Friday before each election, the election supply judge may pick up the "judges envelope" at the Clerk's Office.
Request for Public Records

Any person interested in obtaining information from Wheeling Township, under the Freedom of Information Act, may do so by filling out a request form. This form must be signed, and all fees must be paid by cash or check/money order on the date the information is received.
Regular Office Hours: Monday - Friday 9:00 am to 4:30 pm. 847-259-7730
Email: jgauza@wheelingtownship.com
Deputy Clerk: Regina Stapleton

Clerks Monthly Board Meeting Minutes
Clerks Annual Town Meeting Minutes
2023 Annual Town Meeting Minutes
2022 Annual Town Meeting Minutes
2019 Annual Town Meeting Minutes
2018 Annual Town Meeting Minutes

2017 Annual Town Meeting Minutes
2016 Annual Town Meeting Minutes
2015 Annual Town Meeting Minutes
2014 Annual Town Meeting Minutes
2013 Annual Town Meeting Minutes
2012 Annual Town Meeting Minutes